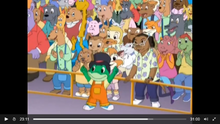 Casey is a cat who became a princess and is a friend of Lily along with Della. Her favorite sport is soccer, as mentioned in Counting on Leap. She is a tomboy and like its male JumpStart counterpart. She is voiced by Ali Lynne Samuel.
In the video Learn to Read at the Storybook Factory, she plays as one of the Three Little Pigs. In the video Math Circus, she was befriended by Mr. Kangaroo. She wore winter clothes in A Tad of Christmas Cheer with a tail sticking out of her snowpants.
She appears as a game board piece in the Letter Factory Game.
She is the same age as Leap - she was actually born in February 10th, 1991.
Domestic Cat (Felus catus)