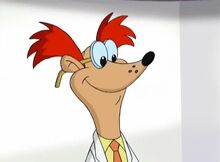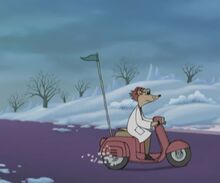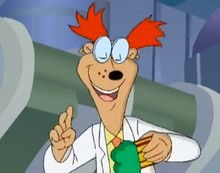 Professor Quigley is a character who runs the factory with Leap, Lily, and Tad. He's a weasel professor[1]. His tail sticks out through his pants.
Appearances
Edit
Hold It! Hold It!
I heard a boom boom boom.
Excellent observation!
The K letters are hard at work!
The N letters can be a little bit crabby.
How about at noon?
Near 9 o'clock?
Next November?
Tad, perhaps we'll have to come back to this room.
Hold it! Hold it! Zat's not a word!
Actually, that's the letter F.
Will they make it, ladies and gentlemen? Hold your breath?
The machine has gone mad!
Yeah, uh uh, false alarm. Everyone, back to work!
Very well done, but, Tad, you don't look so good.
And water makes the H's h-h-happy.
Brr... It's a good thing I wore my long underwear.
Why, that's correct!
This is our E trainer. He's teaching the sound of the letter E. "E" as in egg and elephant.
(singing) The (letter) says... The (letter) says... Every letter makes a sound, the (letter) says...
Hello? Anybody home?
(on his card) The name is Quigley, Professor Quigley.
In these classrooms we teach every letter to make it's correct sound.
You're not cannons, you are the letter B.
Ladies and gentlemen! Boys and Girls!
This is the "C" room.
And That's Not All
Leap, Lily, Tad, as a reward for knowing your letters, I present you not with t-shirts, but with Alpha-Z shirts.
Hurry Hurry, Step Up
1+1=2
I now direct you to not look left, not right, and not down, but UP!
(Singing) You got a (number) and (number) quidget, and that's not all. (number) little coin on a shelf on a wall. (number) of Tad's fingers, those aren't his toes. A (number) quidget worm, let's see how it grows and that's the number (number).
References
Edit